Breaking Strength
Product Description
The ideal cord for prusik knots applied in canyoneering, climbing, rescue, or arborist applications
Prusik Cord strikes the perfect balance between firm and supple. Maxim Climbing Ropes engineered Prusik Cord so that the rope has enough give to grip the climbing rope but is not so mushy that the knot locks up. This results in a smooth, controlled movement over the climbing rope and makes untying the prusik knot easier. Prusik Cord is available in assorted colors in 5mm – 9mm diameters.
Features
Perfect balance between firm and supple

Provides the ability to have a great grip on the climbing rope without letting the knot lock up

Super supple, flexible and easy to knot

Made of 100% abrasion resistant nylon

UV resistant

Enough elongation to resists shock loading anchors when encountering a fall

Small and lightweight for easy packing

Prusik Cords are not certified as a main line for rappelling, belaying or as a climbing rope.
Made in the USA!
Nylon
Braid Type
32-Strand
Uses
Climbing Accessory
Arborist Accessory
Specifications
Similar products
New England Ropes

Lightweight multi-purpose cord for accessories and personal items.

New England Ropes

Weather-resistant and durable multi-purpose accessory cord.

Samson Rope

Ice Tail is a single braid tail with a soft feel.
Customer Reviews
Write a Review
Ask a Question
02/07/2022
William R.
Mooresville, North Carolina
Prusik chord
This was my first experience with Rope.com. I was very pleased with the prices, and couldn't belive how fast my order showed up with the world of supply chain interruption we live in. Overall the prusik chord showed up exactly how I expected it and was easy to cut, tie and use. I will be shopping here again.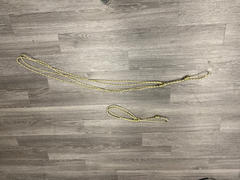 01/20/2022
Evan J.

Gowanda, New York
perfect for the application